ICAN Waiting Child Stories: Harlickas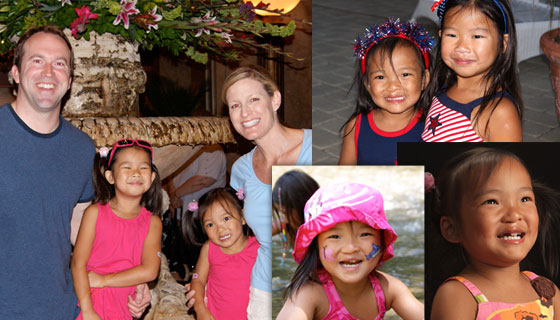 Deciding to change our adoption path from the original plan we started back in 2007 to adopt our second daughter from China was not an easy one, but with the very long wait we had already been experiencing we knew if we wanted to bring home our Mei Mei sooner than later, we needed to seriously consider the Waiting Child Program.
Once we made the decision to seriously pursue finding our daughter in December 2008 via this new avenue to us, we were committed! A big part of our hesitation was the fact we would be choosing our child, unlike with our first daughter, where all the decisions were made for us and she was "matched" with us, because we were not comfortable at all with "choosing" a child, if you will. We also had to realize that with the time delay we had already experienced, we would not be adopting an infant again, as we wanted our girls to be closer in age, since our first daughter was already 4 at the time.
It was definitely a bumpier road than we expected, as many of the children we looked at had conditions that we'd never heard of and were more serious than we knew we could handle "by choice". Families with biological children pray for their newborns to be healthy, so for us and some of our family and friends to understand, it was quite a leap of faith to choose to adopt a child we knew had health issues and possible risks. It can also make you feel extremely guilty for not considering many of the amazing children on the lists, but you must follow your heart and make your decision based on what you know will work for you and your family, especially with the sometimes little information China can and will provide.
You must have a lot of patience and know that it may or may not be "immediate", as it took us 7 1/2 months to find Chloe Xueshan on the many lists we pored over, then another 2 1/2 months to get the updates on her medical files we needed to make our decision to adopt her. Not all the updated files were complete in our eyes considering what we're used to with US medical experiences, but we took the leap! She was diagnosed with repaired cleft lip, cleft palate un-repaired, and a diagnosis of epilepsy at age 1. We consulted with one of the amazing doctors at CHOP throughout the process and it really helped to be informed of what her conditions were and what the worst-case scenarios could possibly be once we got her home. Our mantra before we went over to China to bring her home was, "We are expecting the worst and hoping for the best!"
Happily, we definitely got "the best" and more, than what we were hoping for! When we first met her on March 1st of this year, as soon as we saw her come around the corner and saw her precious face and finally got to hold her in our arms for the first time, I knew in my heart that we had made the right decision and everyday we thank God for blessing us with her and her sister as our daughters! We cannot imagine her not being a part of our forever family! Her Jie Jie, Avery, may have a different opinion depending on what day you ask her, but most days they are the best of friends and loving, caring sisters!
Flash forward to 6 months after being home with our precious Chloe now and we couldn't be happier with how well she has adjusted from the very beginning, to her new life and family, and how much love she has to share with us as well as we do with her! After all, the many doctor appointments. During the first 4 months home we are so thankful to find out that she did not have a true cleft palate, she has a cleft ridge, which is essentially like an open tooth socket that is missing the tooth, so it doesn't affect her hearing, speech, eating/drinking, we won't even have to have surgery until she is around 7 years old to address the missing tooth. She will have to have ongoing dental visits once her molars start coming in over the next 18 - 36 months, but we have friends with "healthy" children who are seeing orthodontists already too, so no difference there! The best news was she was also given a "clean bill of health" from her neurologist after all the tests. She was either was misdiagnosed with epilepsy, grew out of it, had a febrile seizure, who knows, who cares, we are just so happy that we were able to wean her off her meds she was taking two times a day. We thankfully never saw or have seen any sign of seizures.
Chloe is a happy, healthy, unbelievably smart and adorable 3 year old, who if you didn't know any differently, you would think she had been a part of our family forever already!
Thank you so much Stephanie Crouch and the amazing team at Great Wall for helping us complete our forever family! You really are angels for these little ones!
Much love,
Todd, Kendall, Avery SuQiu (6 years old - Jiangxi) & Chloe Xueshan (3 years old - Chongqing) Harlicka